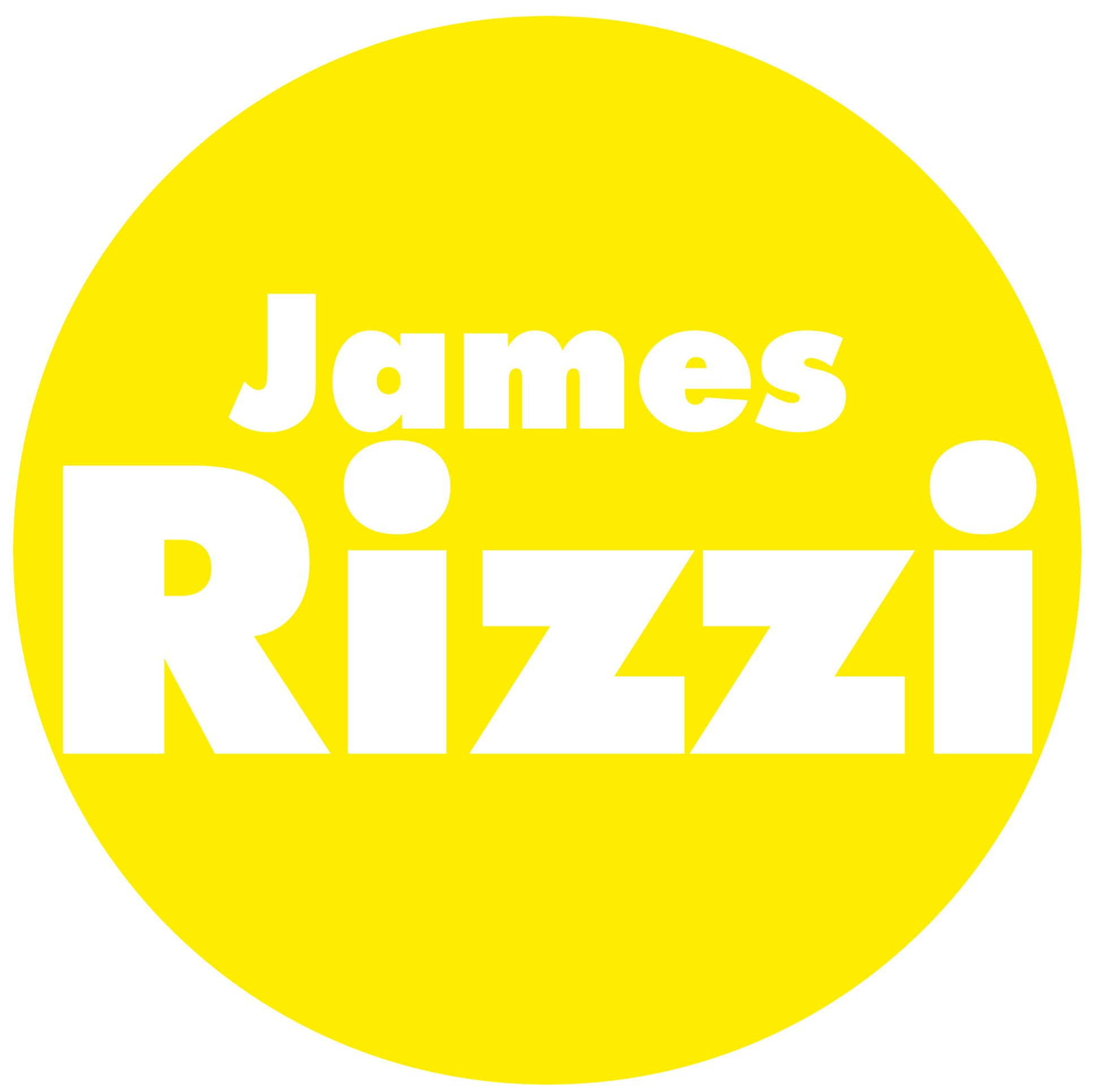 Even during his lifetime, James Rizzi was one of the most popular artists of all time, a true Pop Artist. He first became famous for inventing the 3D paper sculpture and the 3D magnetic images that have been inseparably linked with his name since the 1970s. He also made his mark as a creator of drawings and of unique acrylics. He put his artistic stamp on a multitude of different products, from postage stamps to cars. His inimitable personal style, his humor and optimism, inherent in all his works, are being loved by millions of fans all over the world. Ever since his unexpected death in December of 2011, demand for the works of the New York artist went through the roof. His fans mourn the death of a great artist and, at the same time, a wonderful human being, who never lost touch with the real world. James Rizzi's death has left a void in the global art market that will not be easy to fill.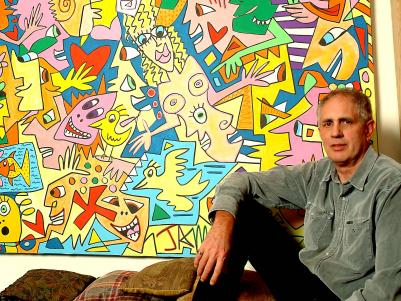 © Paul O. Colliton
Biography
2013
All eyes on Rizzi, Brisky Galerie, Esslingen
James Rizzi in Memoriam, Galerie Griesshaber, Tübingen
Estate Exhibition Miva Gallery, Malmö, Schweden
Memory exhibition James Rizzi, Galerie Palz, Saarlouis
Retrospective exhibition,Art Gallery, Wiesbaden
2012
It´s not a Shoe it´s a Rizzi – Rizzi Sneaker collection by FILA. Porcelain collection of Goebel.
First official exhibition in memoriam, Kunstakademie, Heimbach.
2011
Biggest 3D Construction of the world
Marco Polo cityguide "My New York City" illustraed by J.Rizzi in two sizes
Ravensburger Memory and Puzzle have been released
James Rizzi School in Duisburg inaugurated
2010
The German participants of the XXI Winter Olympic Games in Vancouver
receive the Rizzi-designed porcelain miniature of the Berlin Wall as an official
present of the NOK
Big Rizzi retrospective at the Congress Centrum Bremen, Germany, on the
occasion of Rizzi's 60th birthday
Inscription into the Golden Book of the Free Hanseatic City of Bremen, Germany
Hand imprint at the Bremen "Walk of Fame"
Town Musicians Award, Free Hanseatic City of Bremen, Germany
Big exhibition in the CentrO mall in Oberhausen, Germany, Europe's largest
shopping and leisure center
Auctioning of the Rizzi-designed CentrO Dome in support of "A Heart for
Children", a German charity for children
2009
Design of logo for "Encounters – Shelters for Children", a symposion of the
Peter Maffay Foundation (patron: German Minister for Families)
Retrospective at the Municipal Gallery "Alter Löwen" in Pfullendorf
Design of a porcelain miniature of the Berlin Wall for "Visible Wall" on the
occasion of the 20th anniversary of the fall of the Berlin Wall
The Rizzi-designed porcelain miniature of the Berlin Wall is given to Michail
Gorbachev on the occasion of the festivities for the 20th anniversary of the
fall of the Berlin Wall
2008
Design of four special issue stamps for Germany
Inauguration into "Artexpo Hall of Fame", New York
Charity project with UNICEF
Big retrospective at the Rheingold Hall in Mainz, over 50,000 visitors
Design of a 10 € banknote with kind permission of the ECB
Inscription into the Golden Book of Baden-Baden, Germany
2007
Charity project "Encounters – an alliance for children" with Peter Maffay (Patron:
German Chancellor Angela Merkel)
"Outstanding Achievement Award" by the University of Florida at Gainesville
Album cover design for "Soundz of Freedom" by Bob Sinclar
2006
Steiger Award for artistic life's work (laudatio by Otto Waalkes)
Publication of huge book "James Rizzi – Artwork 1993-2006" by Glenn
O'Brien and Mark Weinberg
Poster design for the official opening of the latest New York golf club on
Governor's Island
2005
Charity projects in cooperation with Lions Club and "action medeor"
2004
Big Rizzi exhibition in the "Mathematicum" museum in Giessen, Germany,
with over 17,000 visitors
2003
Poster design for "SWR3 New Pop Festival"
2002
Design of front page for Hamburger Abendblatt
Design of Teddy bear for Steiff
Official participant, World Economic Forum, New York
Design of three tram cars for Heilbronn, Germany
Charity project with Southwest German public radio SWR
2001
Completion and inauguration of the "Happy Rizzi House" in Brunswick,
Germany
Painting and charitable auctioning of a Smart Car in Tokio, Japan
Award by European Academy of Sciences and Arts, Austria
Design of an album cover for Joey Ramone ("Merry Christmas")
Design of china with Rosenthal on behalf of Siemens AG, Germany, on the
occasion of their entering the NYSE
2000
Participation in New York "Cow Parade"
Design of the "Happy Rizzi House" in Brunswick, Germany, for EXPO
Hannover 2000
Works for UNICEF, the Japanese Railway, and German Telekom
1999
Design of three New Beetles for Volkswagen (and inclusion of one of them
into the permanent collection of the Volkswagen Museum in Wolfsburg,
Germany)
Design of 15-volume Brockhaus Encyclopedia
1998
Artist of the year, US Sports Academy
Official artist of the Olympic Winter Games in Nagano, Japan
Official artist, FIFA world cup, France
Official participant, World Economic Forum, Davos, Switzerland
"Distinguished Alumnus Award" by University of Florida in Gainesville
1997
Official artist of the Montreux Jazz Festival, Switzerland
Publication of "Christmas Cooking in New York" with recipes by famous
Swiss chef, Peter Bührer
Design of a heart-shaped logo for RTL charity (German TV)
Design of four limited edition CDs for Bertelsmann
Design of a fridge door for Liebherr
Art Show in Brooklyn, NY, and declaration of opening day as "James Rizzi
Day" by the mayor of Brooklyn
1996
Publication of the James Rizzi book "The New York Paintings"
Publication of "James Rizzi – My New York Cook Book" with recipes by
famous Swiss chef, Peter Bührer
Official artist of the Olympic Summer Games in Atlanta, GA
Admission of Rizzi works into the permanent collection of the IOC in
Lausanne, Switzerland
Interview for Japanese Television
Design of exterior shell of a Boeing 757 for the 40th birthday of the Lufthansa
affiliate Condor
1995
Design of Bobby Car for BIG
Design of china ashtray and graphics for the 25 year anniversary of Philip
Morris Europe
Design of poster "Rizzi Meets Spitzweg", New Pinakothek, Munich, Germany
1994
Begin of a year-long series of china designs for Rosenthal
Design of limited edition MetroCard for the New York Metropolitan
Transportation Authority MTA
Design of logo for Children's Friend for Life
Design of ski-wear for Descente, Japan
Design of phone cards for AmeriVox and Teleworld
1993
Design of box coat for Henry Maske (IBF world champion, light heavyweight)
Title story and magazine design, MAX Magazine, Germany
1990
Design of title "Take Me Out to the Ballgame" for hollywood movie "V. I. Warshawski"
starring Kathleen Turner1992
Publication of second book about James Rizzi (Glenn O'Brien, "Rizzi")
Guest of honor of the American Anorexia and Bulimia Association
1988-92
Various design projects in Japan
1988
Publication of first book about James Rizzi (Gerrit Henry / Marshall Lee:
"James Rizzi – 3-D Constructions")
1987
Production of a film about Rizzi by Japanese TV ("Rizzi meets the Salsa");
Design of album cover for Dee Dee King ("Funky Man")
1980-83
Design of album covers and two animated video clips for "Tom Tom Club"
("Genius of Love", "Pleasure of Love") as well as another album cover for
Andy Summers and Robert Fripp ("I Advance Masked")
1976-77
Participation in "Thirty Years of American Printmaking, including the 20th
National Print Exhibition", Brooklyn Museum, NY (Gene Baro, curator)
1975
Design of 150 ft. outdoor mural for Eric's Bar & Grill, 2nd Ave + 88th St, NY
(building demolished in 1985)
1974
Participation in outdoor art shows in Washington Square and Brooklyn
Heights, NY
1973
Graduated from the University of Florida at Gainesville (Fine Arts)
Opening of studio/gallery, Sullivan Street, SoHo, New York
1950
Born in Brooklyn, NY, as second of three children